After a long journey here I am receiving my BSc (Honours) Open Degree from Josie Fraser (nee Harder) Deputy Vice-Chancellor of The Open University of Milton Keynes (UK) at the Glasgow Royal Concert Hall 🎓
The #graduation took place a year later because of Covid, which gave me time to choose from one of OU's ceremony locations: the UK or Northern Ireland, so I chose Glasgow 🏴󠁧󠁢󠁳󠁣󠁴󠁿
It was a special moment and as you can see from the expressions of the honorary members, my celebratory walk had it's effect! Just have a look at the zoomed in image made by my dear friend Jatinder Badhan. I jumped like Super Mario! Yahoo!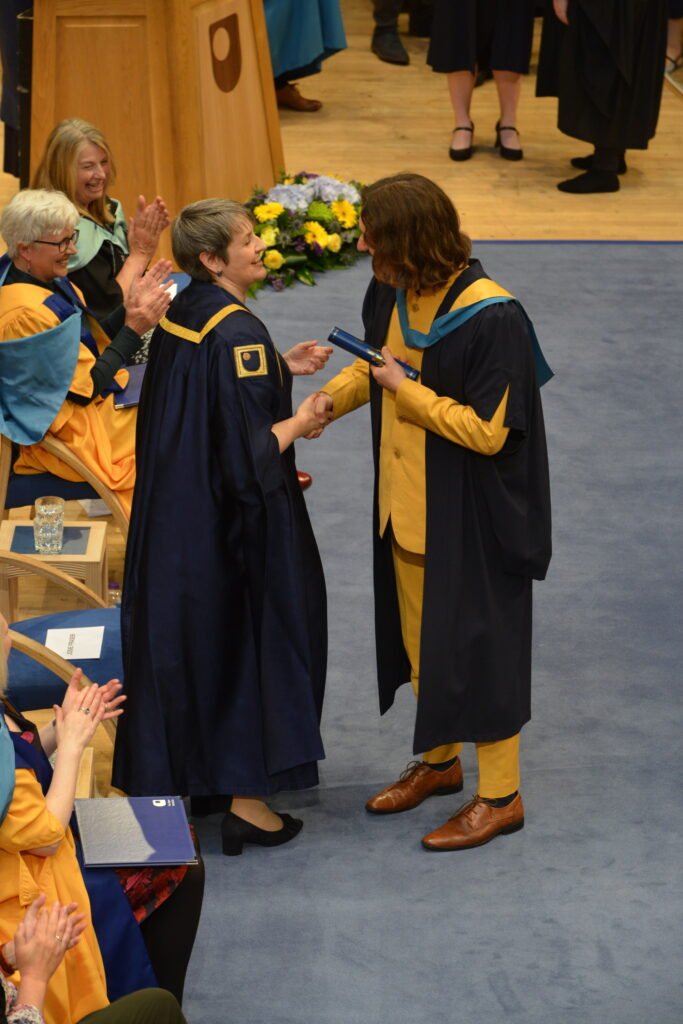 Ok, so what have I graduated in?
The short story is: I graduated with a BSc (Honours) Open Degree at the Open University – Upper Second Class in 2021.
The long story is: that my bachelor is composed of a combination of credits, modules and courses from different European universities (Italy, The Netherlands & UK).
We have to go back to 2015, after High School I wanted to join University of Amsterdam – PPLE College, however to enrol I needed a higher GPA. So I went to the Università degli Studi di Siena and studied a year of Political Sciences and International Relations, completing all of my first year exams with an average GPA of 8.5. These grades allowed me to pass through the enrolment process of PPLE and I got accepted!
2016-2018 were some exiting and challenging years, I was part of Room for Discussion the interview platform of the University of Amsterdam, moved place to place in a heated renting market, lost a dear friend and failed several times Statistics ahahah Because of this I couldn't to continue my studies at PPLE and enrolled in European Studies at the UvA for a year. During that time I did my internship at the Embassy and Consulate General of the Kingdom of the Netherlands in Italy.
While being at the Embassy, I sent my PPLE credits (90 = 1,5 academic years) to the Open University. They accepted them (whole heartedly) and allowed me to continue my studies starting from 2019 and because of the Open Degree I could create my own curriculum on top of my existing credits!
So I chose to study:
2nd year module Creative Writing (30 ECTS)
3rd year module Strategic Management (30 ECTS)
3rd yr module Advancing Social Psychology (30 ECTS)
The experience of studying from a distance was forming, challenging as well as enlightening and empowering. The fact I could be studying from home, stay with my parents in Italy and my loved one in Spain, made it even more pleasant.
This Degree didn't require a thesis, but my mom wanted to still give me the opportunity to hold a thesis like book. So she gathered all of my past assignments and essays in one book. Covering my PPG (Politics, Power and Governance) from PPLE to my Advancing Social Psychology essays, creating a unique patchwork of writings, giving room and recognition to both the time I spent at the University of Amsterdam and at The Open University. #oufamily